Doradavid is a fan character.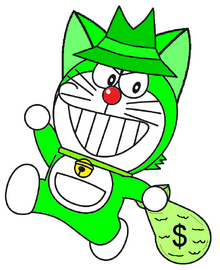 He's the 6th character by Emilioalzamora20.
He's laughing when managed to steal the money, he laughs like "hi, hi, hi, hi, hi, hi, hi"
His favorite songs are:

Many songs used a song (by?) Mozart Symphony 40, just like:

MOMENT 40 by MOSHIC
Dr. M by BANYA
10 out of 10 by Louchie Lou & Michie One
Ad blocker interference detected!
Wikia is a free-to-use site that makes money from advertising. We have a modified experience for viewers using ad blockers

Wikia is not accessible if you've made further modifications. Remove the custom ad blocker rule(s) and the page will load as expected.