Doramogu is fan character.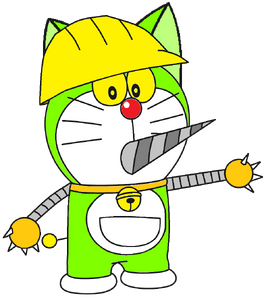 Biography
Doramogu is a robot cat green with yellow eyes, orange hands, with sharp nails. He has a drill, but is attached mouth so he cannot speak. How to eat it is there is place behind the mouth to eat. He wears a yellow hat, but, do not have bright lights, he can be extracted quickly. Favorite food is dorayaki with contents of banana, jam too. Doramogu suffers from dirty. His tail is yellow.
Trivia
He's the 17th character by Emilioalzamora20.
His favorite songs is:

Many songs used classic song Can Can, just like

CAN CAN by BanYA
SUPERGABBER by Hakkuhbar
Ad blocker interference detected!
Wikia is a free-to-use site that makes money from advertising. We have a modified experience for viewers using ad blockers

Wikia is not accessible if you've made further modifications. Remove the custom ad blocker rule(s) and the page will load as expected.